Born in 1928, Jack Robinson grew up in Clarksdale, Mississippi, in the heart of the Mississippi Delta. He attended Tulane University and remained in New Orleans where he worked as a graphic artist, focusing on photography only as a hobby. His early street portraits documented the rich culture of New Orleans and captured the charm and bustle of the French Quarter and the Central Business District. His photographs of gay Mardi Gras show a society well ahead of its time.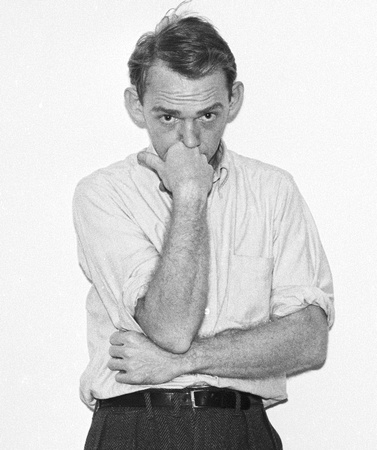 In 1955, Jack moved to New York to pursue a career in photography. He quickly proved his talent as a freelance fashion photographer and caught the eye of Carrie Donovan, then a fashion editor at the New York Times, who gave Jack regular fashion assignments for the Sunday Magazine. After only four years in New York, Jack reached something of a pinnacle for photographers: the cover of LifeMagazine.
In 1965, along with Carrie Donovan, Jack moved to Diana Vreeland'sVogue Magazine. Vreeland soon became a huge fan of Jack's portrait work. Over the next seven years, the extent of Jack's photography career, he completed hundreds of freelance assignments for Vogue, both portraits shot in Jack's studio, as well as fashion shows and parties. In 1972, disheartened and stressed-out, Jack left New York and moved home to Memphis to help take care of his aging parents. He would never take another professional photography assignment again.
For the rest of his life, Jack designed stained glass, winning awards and commissions for some of the most spectacular windows in Memphis and throughout the South. He mostly kept to himself and rarely if ever spoke of his time in New York. When he died of cancer in 1997, even the people in Memphis who knew him best were truly shocked when they discovered his history. Inside Jack's simple apartment were box after box, each filled with envelope after envelope, all neatly organized, categorized, and labeled: New Orleans, Canal Street, Mardi Gras, Mexico, Helena Rubenstein, Elizabeth Arden, Dior, Givenchy, Suzy Parker, Tina Turner, Elton John, Julie Christie, Sonny & Cher, Joni Mitchell, Leonard Cohen, The Who, Donald Sutherland, Lauren Bacall, Michael Caine, and on and on. Hundreds and hundreds of envelopes, each with negatives in glassine sleeves, contact sheets, some with Jack's wax pencil notes, even the occasional print, prepared for a New York show that never happened. This was Jack's legacy. He had told a few close friends that he wanted this work to be discovered, but only after he was gone.
To fulfill Jack's wishes, his executors have created The Jack Robinson Archive to preserve and promote his artistic legacy.